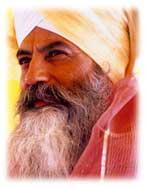 Yogi Bhajan - Spain , August 16-18, 1985
Kundalini Yoga promotes Balance and supports all systems for healing on all levels.
Here is why that is important.
Yogi Bhajan from a Healing course lecture in Barcelona , Spain , August 16-18, 1985 (pages 22-23 of "ra ma das a sa se so hung healing through yoga, meditation and massage" yoga manual)
"Basically body needs exercise. But exercise should not only work one part of the body. The kind of exercise that activates one part of the body is very dangerous. People who do one exercise constantly and heavily usually damage their body.
The body doesnít need what you consider exercise. When you are working you are not exercising and when you are sleeping you are not meditating.
Meditation is a mental exercise. When you meditate thoughts come in, then you cut down those thoughts with a mantra. Discontinuing each thought that comes in while you are sitting down with the mantra is called meditation. Meditation is not sitting down and calming your body. That is called sitting in calmness.
The intellect will give you the thought whether you like it or not, while at the same time the mind must relate to one point. Thatís why singing spiritual music is a better form of meditation because you can concentrate easier in one way. Or else listening to spiritual music and leaning into it is a better form of meditation or better way to calm your body whatever shape or form it happens to be in
Involve the body in the mantra and do not let the thoughts stream from the intellect through the body. This is very good and essential for the mind. Prayer on the other hand is very good for the soul. Prayer is me relating to the infinite ME. This is very healing. It is healing oneself. Anywhere between your little I and the infinite I you get healed in the process. This is the fundamental process called healing."